The Operations Outsourcing Continuum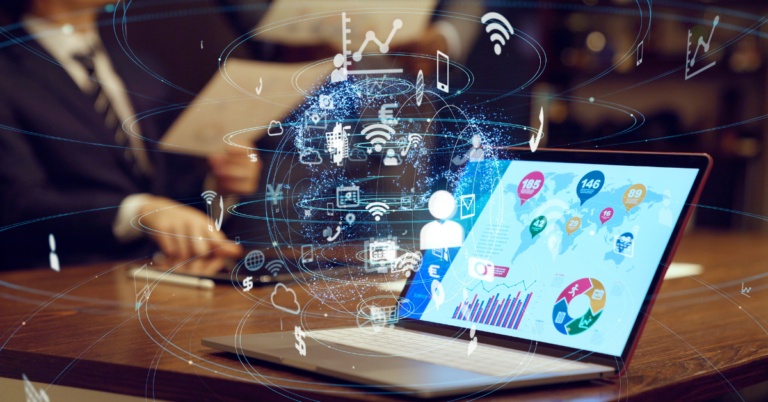 Efficiency has always been top of mind for asset managers. Whether tracking an index or engaging in highly specialized strategies, managers rely on increased computing power, proprietary technology and teams of specialists to gain an edge in a highly competitive, high-stakes environment.
For years, planning, developing, training and implementing the right mix of technology and human workforce was just a part of the business; to legitimately compete, firms had to increase their spend. But that has changed recently.
Periodic economic downturns over the past two decades have encouraged asset managers to turn to specialized service providers as third-party partnerships became a strategic necessity. Initially, these outsourcers provided back office support, but asset managers, particularly emerging managers, quickly recognized that outsourcing peripheral tasks—even in the middle and front offices—freed them to focus more intensely on their own businesses.
With renewed attention to their own funds, managers utilizing well-aligned outsourcing providers are outperforming their competitors and growing their footprints. They're avoiding common pitfalls facing other asset managers, like service disruptions, fragmented and broken workflows, expensive and over-engineered technology or the risks that come with rigid or overly prescriptive business models. Instead, they are attracting more assets, improving their distribution, tapping into new asset classes, competing in broader markets and serving new clients, while innovating to meet and redefine client expectations.
Today, the most successful asset managers turn to service and technology providers, like STP, that operate along the entire spectrum of the operations outsourcing continuum. On one end are managers leveraging fully–outsourced business models, while the other fulfills the needs of managers with varying technology demands. Between these two poles is a graduated mix of services and technology, reinforced by STP's industry-leading data processing, analysis and insights, providing intelligence that's vital to the success of modern managers.
Every Firm's Outsourcing Needs Are Unique
While adding technology or personnel to keep peripheral functions in-house might initially seem like a good idea, poorly integrated, expensive or extraneous technology, mixed with ballooning labor costs, can quickly cause problems. With interest rates on the rise and a cloudy economic outlook, business leaders risk sudden catastrophe if their operations are functioning at anything other than peak efficiency.
At STP, we help leaders focus on core competencies, ultimately de-risking their businesses. Our wheelhouse is operations, which is why we think about outsourcing on a continuum.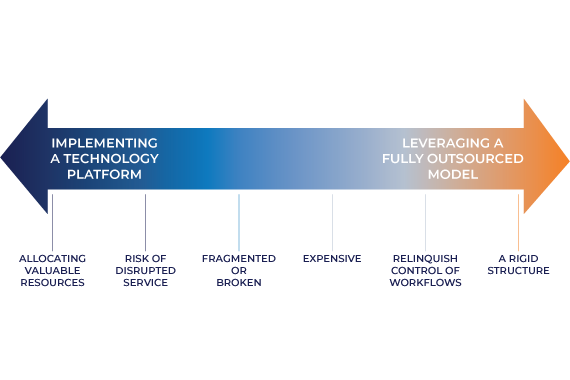 This conceptualization helps us—and our clients—avoid the trap of unidimensional solutions. By taking a holistic view of each client, we can provide a perspective that benefits the entire business, not just a department or team. Functions, like trading, portfolio accounting, compliance and security, are intertwined with objectives like cost reduction, maximizing efficiencies and optimizing technology without overspending.
Lots of vendors put up slides, but aren't great at their follow through. We see ourselves as a specialized-generalist that can address total, systemic business needs, while maintaining the focus and expertise necessary to dig into the cracks and root out overlooked problems.
Front, Middle and Back Office Solutions Provide Speed and Service
Whether emerging or established, asset managers are increasingly looking for front, middle and back office service partnerships. It's an important decision: a properly aligned provider can support and grow your business, around the globe, for the next three decades and beyond.
Beware of service providers who overpromise and underdeliver. Over the course of years in business, the occasional misstep might arise. But how are those errors managed? Do you want a partner who will deny and deflect or one who values accountability?
The best service providers are committed to building the entirety of operations around client experience. A client should be presenting its products to the service provider's teams, wherever they're located. In the same way, service should be consistent and reliable, regardless of which office is providing it.
At STP, strategy is our guiding principle. With the variety of goals asset managers have on their agendas, our continuum of capabilities provides support for launching more products at a faster pace and across more jurisdictions than what's available internally for asset managers.
Managers quickly discover that the expenses on their spreadsheets are just the tip of the iceberg. Alongside monetary expenditures is time needed to implement solutions, not to mention opportunity costs associated with troubleshooting new workflows.
Outsourcing with the right partner also helps a business operate at the pace it needs to.
Speed to market is critically important. Managers focused on core competencies are able to more easily develop, test and launch new products or expand their markets. With our support, those managers are building their funds and letting us handle the complexities STP's business is designed for.
Unlocking The Potential In Your Data
The right service provider will use technology to mitigate risk, add controls and promote efficiency. They will also help clients to harness their pre-existing data in creative and insightful ways.
Typical management practices hold vast amounts of data. There's client information, trade instructions, portfolio reports, accounting and more. The right outsourcing firm can manage that data, providing safeguards and compliant oversight to keep data secure and accessible for properly credentialed stakeholders. Cybersecurity and data privacy are major cost and liability factors when operating programs at scale—and STP is experienced and well-equipped to handle those aspects of asset management.
We specialize in data context. Information in a vacuum leaves strategic initiatives on the table. Firms convert growth goals into reality using our specialists and tools, which are built for managers and designed to turn both unrefined and refined data into actionable business intelligence.
While they're easy to make, unrealistic promises about automation should be treated with extra scrutiny. Some systems may claim to automate complicated distribution schemes and products, but there are still limited and manual processes that need to be factored into commonly outsourced workflows.
Private capital, private equity, private debt and close-ended fund structures are notorious for their complexities. Fund managers focused on growth should know how their partner is supplementing automation with human expertise, in a controlled and scalable manner. Don't ignore the red flag flying above outsourcers that aren't transparent about the divisions between technology, automation and manual processes.
Leadership and Operational Excellence
Today's asset managers increasingly partner with nimble and forward-thinking third-party specialists that demonstrate leadership and operational excellence. At STP, we know that modern managers expect their technology and service providers to build and master a unified platform that showcases their adaptability.
As increased and improved efficiency has swept over the front, middle and back offices of asset management, let us help you to manage and excel among the changing expectations of the business. Partnering with STP means working with a technology and service provider that has the solutions you need, from technology to completely outsourced service models. Contact STP to learn more about our continuum of capabilities, and let us help you provide a continuum of value.