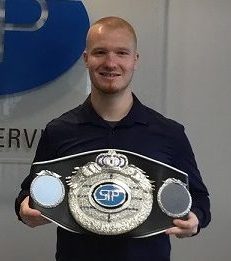 Dave Likens Wins STP's Core Values Championship
STP Investment Services is proud to announce the winner of the June 2018 US Core Values Championship. The winner is chosen by a vote amongst peers every six months to recognize the employee who best exemplifies the core values of STP. The champion takes possession of the coveted Core Values Champion belt for six months before relinquishing it to the next winner. In addition to the belt, the winner also receives a monetary prize and their name is added to the STP Core Values plaque that is permanently displayed in the US office.
The June 2018 award was presented to Dave Likens. Dave exemplifies many of the STP Core Values including taking initiative, being innovative, being accurate at all times and a being a source of praise. Dave is always willing to assist no matter what the challenge may be. He has a fantastic Excel and VBA skillset, which has helped create tremendous efficiencies. Dave has taken initiative on many projects within STP looking for ways to improve workflow, increase accuracy and reduce risk globally. STP would like to congratulate Dave for going above and beyond each and every day.