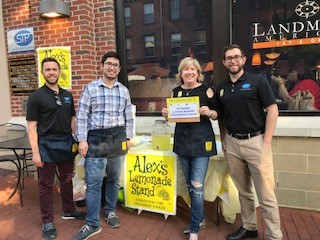 STP Hosts First-Ever Alex's Lemonade Stand
STP Investment Services held its first ever Alex's Lemonade Stand on Thursday, June 7, 2018 during Lemonade Days raising over $1500 for Alex's Lemonade Stand Foundation (ALSF). Lemonade Days is an annual multi-day event that encourages individuals and organizations across the country to hold lemonade stands in solidarity for finding a cure for all childhood cancers. This event collectively raises over $1 million for the most promising childhood cancer research and family support programs.
Alexandra ("Alex") Scott, was diagnosed with neuroblastoma, a rare form of childhood cancer, shortly before her first birthday. In 2000, at the age of 4, Alex held the first lemonade stand in her front yard. At the time of her death in 2004 at age eight, Alex, along with the help of people across the country, had raised $1 million.
To date ALSF has raised over $150 million for childhood cancer and has funded more than 80 research projects at 135 institutions.
STP Investment Services has a strong culture of good citizenship and philanthropy. We are very proud to support Alex's Lemonade Stand Foundation, a fellow Philadelphia-based organization, and share founder Alex Scott's vision of a cure for all children with cancer. We are appreciative of our employees and the West Chester community for supporting our first stand and look forward to continuing our support of ALSF annually during Lemonade Days.
"I am so grateful to STP Investment Services for your support of this cause. Alex truly believed that together we could cure childhood cancer, one cup as a time. People like you are making that happen and allowing ALSF to change the lives of children with cancer. Thank you," said Alex Scott.