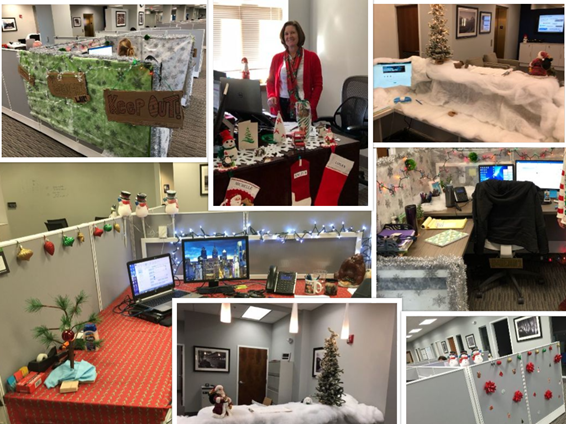 STP Employees Celebrate the Holidays with Fun Competitions
STP employees got into the holiday spirit by participating in a Holiday Desk Decorating Competition and a Multi-Day Cookie Cook-Off, organized by the STP West Chester Events Committee.
In the days leading up to Christmas, STP employees competed in a multi-day Cookie Cook-Off. December 19th was the "Chocolate Chip Throw Down". The winner of this round was Jeanne Bartow with her Homemade Chocolate Chip Cookies. December 20th was the "Other Cookies Cook-Off", which included all of the non-chocolate chip cookies. There was a tie for the winner of this round, so the prize was presented to both Marie Devenny for her Snickerdoodles and George Bailey for his Hersey Kiss Cookies. The final round of the cookie competition was held on December 21st, and was titled "The Not-So-Cookie Cook-Off", for the bars and other cookie type treats. The winner of the final round was Shannon Merrill, with her Chocolate Toffee Nut Bark.
During the week leading up to Christmas, STP employees also competed in a Holiday Desk Decorating Competition. Employees were tasked with decorating their workspace to celebrate the holiday season. All employees voted on whose workspace best met the three judging criteria; Visual impact, Creativity/Theme, and Craftmanship/Artistry. Ultimately, Shannon Merrill won the award for her Grinch's Lair themed desk space.