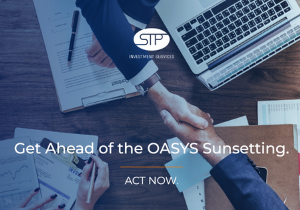 STP Investment Services Offers Relief to Those Left Hanging by OASYS
WEST CHESTER, PENNSYLVANIA — June 15, 2021 — STP Investment Services, a comprehensive provider of front, middle and back-office trading, resolution and reporting technology, is offering investment managers that utilized OASYS' platform a conversion to its services with no setup and implementation fees. By doing this, firms that have not already found a replacement for a soon-to-be-decommissioned legacy technology can take advantage of STP's award-winning service and software solutions while simultaneously achieving a cost savings and improving their tech stack.
As Depository Trust & Clearing Corporation's (DTCC) OASYS is being decommissioned in October, many firms that previously did not have a central trade manager (CTM) connection will experience sizable disruption this fall and seek alternative software solutions.
"It's important for financial services firms to take the sunsetting of this technology seriously and prepare in advance to ensure a smooth transition," explained Kaisha Lourens, Assistant Vice President of Trade Settlements and T3 at STP. "Firms who aren't adequately prepared will experience issues with more complex trades including step-out trading or with timely trade affirmation. Depending on where a firm is trading, this could lead to suspension of trading privileges if assets aren't properly identified and custodied. That is why we're making our comprehensive platform widely available and eliminating the hurdles for those who need access to our solution quickly."
STP's Trade Settlement Services feature comprehensive post-trade processing including: custodian trade routing via affirmation, file delivery or SWIFT; complete trade life-cycle oversight; loss prevention/mitigation and pre-match and fail tools; proactive trade monitoring; key performance indicator reporting and a cost-effective global delivery model.
"At STP, we offer our clients best-in-class technology coupled with high-touch service every hour of every week," said Patrick Murray, Chief Executive Officer of STP. "We have thoughtfully engineered our service and platform offerings to suit all types of financial services firms. On the STP trade settlement platform, we offer flexible, low cost, 24-hour coverage including overnight monitoring with a seamless service experience.  For clients who would prefer to retain their own trade settlement infrastructure, they leverage STP's high-performing staff to perform key settlement processes within the client's existing technology and workflow."
These premiere services are made possible through STP's depth of experience over the last 13 years and its office in Bangalore, India which completes all of the necessary trade resolution protocols prior to the market open in the United States.
To further ease the transition, for those seeking post-trade technology solutions following the decommissioning of OASYS, STP Investment Services invites you to the To further ease the transition, for those seeking post-trade technology solutions following the decommissioning of OASYS, STP Investment Services will be offering an on-demand webinar on June 30, 2021 at 10 a.m. Click here to register.