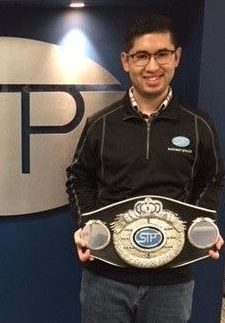 Andrew Dao Named STP's Core Values Champion
STP Investment Services is thrilled to announce Andrew Dao as the winner of the most recent Core Values Championship. Andrew Dao was selected by an overwhelming majority of his peers. He is a great team member and goes above and beyond every day to exemplify the STP Core Values, specifically continuously improving our business, being accurate at all times and always doing what is best for the client and the company.
Andrew is described by his co-workers as being a very hard worker who does whatever it takes to get the job done. He is always willing to help a teammate and remains cool under pressure. A lifelong learner, Andrew generously shares his knowledge with the team and works to increase his value to the company and to the clients by advancing his skills and knowledge of improved processes.
Andrew was recognized by CEO Patrick Murray at the annual company meeting, was presented with the heavyweight Core Values Champion belt and a cash prize and has been added to the STP Wall of Champions in the office.