Three Key Questions You Should Be Asking Your Back Office Provider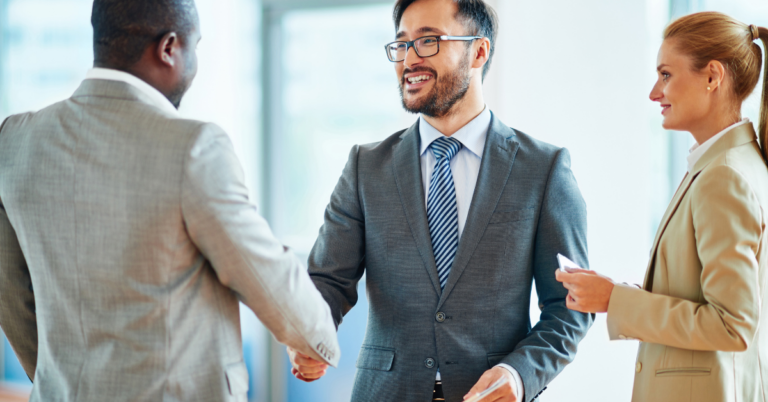 In business, there are certain conversations that continue to resonate long after they've taken place. Sometimes they're over cocktails or a glass of wine at dinner. Others take place in the corner office or at a ballgame. Recently, one such conversation took place between the CEO of a Chicago-based asset management firm and STP's leadership team.
Dan Houlihan, President of STP, and his sales team had been bidding—and winning—an outsized number of service contracts from their client. But the request for proposals were still coming in and starting to look the same: one aspect or the other of the client's business had a one-off need, could STP please place a bid?
"I stopped him one day, after a meeting," said Houlihan, describing his transformational conversation with the firm's CEO. "I explained that he could look at us as a provider, or he could look at STP as a platform company with the right capabilities to run his entire business."
"We had been bidding on these proposals for a while," Houlihan continued, recalling how he pitched the asset manager. "And I knew if he just looked at STP as a platform company, that we could execute his firm's strategy better and faster than he could on his own. We could align our strategy with their strategy. We could optimize our own platform for our client, to help our client achieve its goals."
Two days later, the CEO called back. He said, "I've thought this through. I want the whole platform."
Back offices aren't known for their revelations, but STP changed that. "Nobody else had explained back office support and outsourcing that way before," said Houlihan. "Anybody can process a trade. But STP can move faster and more nimbly than our competitors. We're not a transactional company; we're a relationship-based company. We want our clients forever."
It was an illuminating experience. Due diligence when selecting an outsourcing partner involves hundreds of questions, answers and points to consider, but based on the thousands of conversations executives at STP have had over the years, they've grouped their dialogue into three key questions that should be raised to every back office provider.
Can my back office provider deliver the services needed, within the context of our business?
What is the nature of the partnership my firm will have with my back office provider?
In what ways does my back office provider enable the growth of my business?
These are weighty inquiries with important ramifications, so we're unpacking all of them. We believe each of these questions sheds light on vital functions that a back office provider should be performing.
Find a Back Office That Aligns Service, Strategy and Context
A back office provider needs to have the basics covered. There should be no question about their ability to compliantly manage orders and transactions, consistently and accurately reconcile accounts, process reports, automate where needed and provide global support and client service around the clock.
But there's a strategic aspect to back office support that will really separate the best from the rest.
Back office outsourcing, when done appropriately, strategically aligns the outsourcer with the firm contracting the support. For clients who have a plan for utilizing outsourcing, it's important that they work with a vendor who can bring their blueprint to life.
Factor in culture. Does your back officer provider nickel and dime you, or do they look to the bigger picture and help you move to a higher level? Is your outsourcing partnership transactional, or do they want to have you as a client for life? How well do they know your business?
"We want to evolve with our clients over time," said Houlihan. "Firms that outsource now, assuming they select the right providers, will be taking advantage of the efficiencies and the elevation of capabilities that's happened over the last decade, with the emergence of new technologies, the cloud and fintech's evolution."
The best outsourcers know their clients and know their portfolios. The best outsourcers tailor their responses to the individuals they're working with. They know which portfolio managers track indices and which have low-turnover, long-only portfolios, for example.
"That's service with context. You know your client," explained Houlihan. "You've got to deliver the goods on-time. It's got to be right. But the partnership aspect is, 'Is there real client intimacy and portfolio intimacy?'"
Building a Partnership for Life
Back office outsourcing should not be taken lightly. It's a major undertaking, with huge consequences for the success and growth of your business. Whether you're an emerging or established fund manager, finding the right partner means not only thinking about today and tomorrow, but where you'll want to be years down the road.
Beware of back office providers who overpromise and underdeliver. Over the course of years in business, the occasional misstep might happen. This is still a human business, after all, despite the advances of technology and automation. But how are those errors managed? Do you want a partner who will deny and deflect, or do you want to be associated with an organization that's accountable and won't make the same mistake twice?
It's vital to find a service provider committed to building the entirety of its operations around client experience and adding to the value chain of its clients. A client should be presenting its products to the service provider's teams, wherever they're located. In the same way, service should be consistent and reliable, regardless of which office is providing it.
Avoid back office providers with business models that incorporate de facto "factories" that throw up barriers between the client and support. Instead, opt for service providers who know you and your portfolios. These are organizations that encourage transparency. Your partner should have client context at the top of mind, whether they're located in Manhattan or Mumbai.
Lots of Levers for Growth
There are a number of ways to measure growth and scale, from assets to distribution, and your back office provider should be helping boost all of those metrics. A powerful back office servicer will help you increase your assets, the jurisdictions and geography where your products are available, the distribution of your products to new customers and institutions and expand the sheer number of investors with access to your product.
Once again, alignment is a factor. Growth is a result of service; specifically service that's provided in a logical, goal-oriented manner. Avoid services that carelessly cut corners or don't accurately reflect the intricacies of your business.
That means automation claims should be treated with extra scrutiny. While some systems may claim they can automate complicated distribution schemes and products, there are nevertheless limited and manual processes that need to be factored into back office workflows.
Private capital, private equity, private debt and close-ended fund structures are notorious for their complexities. Fund managers focused on growth should know how their partner is supplementing automation with human expertise in a controlled and scalable manner. It's a red flag if your back office provider isn't transparent about the divisions between technology, automation and manual processes.
The right service provider will use technology to mitigate risk, add controls and promote efficiency, but it will be done with focus and attention to detail—and only where appropriate.
Work With The Best
Every organization is different, so the best back office partners are flexible and work to quickly and smoothly align their business with yours. The advantage of working with a platform company, as our Chicago-based client discovered, is that all the technology, services, support and insights you need are there for you.
You shouldn't have to add accounting, order management and execution, compliance, client service and reporting to your workload. That's why we provide an entire platform that fulfills those needs.
We're good people. We hire good people and we want to work alongside good people. But don't just take our word for it. Learn how STP can position your business for success, whether that's using our platform and technology, turning to us for a consultation or offloading your operations so that you can focus on your specialty. Connect with us today.