A Comprehensive Guide to Outsourcing Operations for Your Wealth Management Practice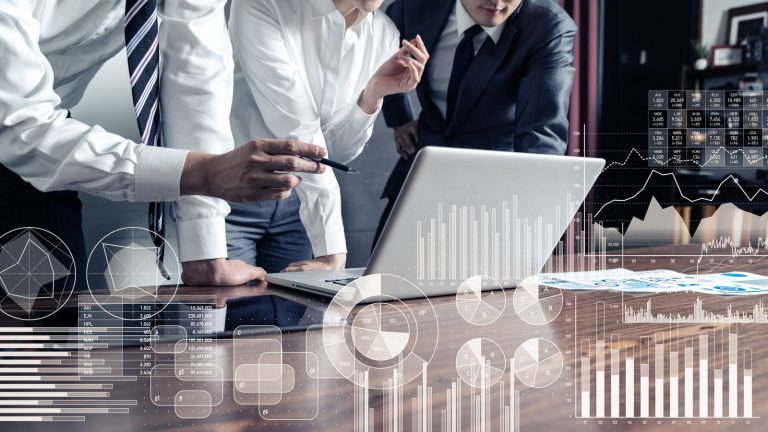 As the wealth management industry experiences increasingly rapid growth, services that support advisors and wealth managers will continue to grow alongside—namely, fintech solutions like wealth management platforms and financial advisor software. 
After all, growth begets growth. According to Statista, the number of fintech startups has more than doubled over the past 3 years. And if wealth managers continue embracing the innovative offerings flooding the market, the meteoric rise of fintech platforms will only continue as the industry evolves to meet the needs of the modern consumer. 
Additionally, consumers' needs have evolved greatly over the last year. COVID-19 only accelerated the adoption of fintech solutions as contactless operations became the norm. A study by SmartAsset uncovered a huge shift in client-advisor communication preferences, as 33.5% of clients now expect advisor interaction through video calls—a jump from 2.44% prior to COVID-19.
Beyond the pandemic's impact on the rebirth of wealth management, today's consumers are driven by convenience—expecting personalized service, instant gratification, and seamless access to information. 
Firms that accommodate these preferences will win. And fintech will help them do it. 
But is fintech the silver bullet wealth managers expect it to be?
What Traditional Wealth Management Software Can Provide
The business of financial advice has been—and always will be—about building human relationships and advisors who emphasize deeply personalized service will thrive. The reality is: those who don't digitize will be left behind. 
However, sourcing technology to fill operational gaps takes time. Integrating new platforms with an existing tech stack can be cumbersome and costly. Firms must dedicate valuable time and energy toward educating, implementing and integrating new wealth management software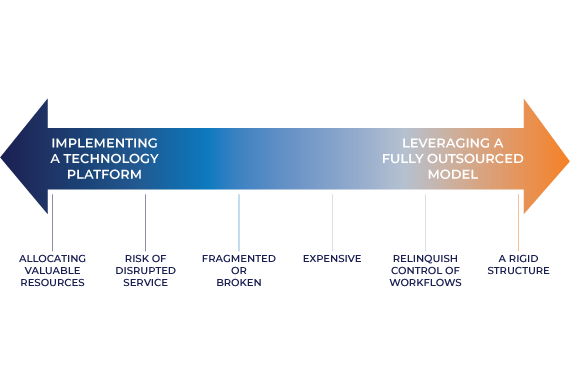 As the wealth management industry continues to prioritize increasing technology adoption and digitizing front, middle and back office operations but may find themselves stuck between a rock and a hard place: do they bite the bullet and dedicate valuable resources to implementing new wealth management software, or try to continue business as usual?
But just because you don't have the resources to invest in an innovative tech stack doesn't mean you're out of options. 
There's another option that's often overlooked: outsourcing the operation and management of financial advisor software. 
Outsourcing Operations: The Other Side of the Same Coin
Ironically, many firms turn to technology as the solution for all operational inefficiencies when it can actually create more inefficiencies. What advisors really need are the perceived time-saving, data management, and transparency benefits that innovative technology promises—but can't always deliver. 
Outsourcing operations involves leveraging third-party expertise to manage a customized tech stack, identify and advise on improved operational efficiencies, and remove the time-consuming burdens associated with practice management operations. 
Ultimately, the benefits of outsourcing technology management transcend nearly every aspect of financial services' operations. 
3 Benefits of Outsourcing Operations
Optimize Your Human Capital 
Advisors' time will always be best spent with clients, or focusing on their needs—not managing wealth management platforms. 
And because sourcing, implementing, and optimizing technology takes time and resources, outsourcing the management of advisor technology creates efficiencies that in-house management simply cannot achieve without increased staffing. 
Knowledge management is also a major concern of in-house technology platforms. When one or two key people are entrusted with day-to-day software management, you run the risk of losing operational capacity if those team members seek other career opportunities. Unless processes are well documented and an emphasis is placed on continued education of operational tools, in-house software management can be risky. 
Maintain Data Control and Transparency
Many mistakenly believe outsourcing the management of financial advisor software and wealth management platforms means relinquishing control and letting an external partner steer the ship. And while that may be the case for some providers, it's certainly not indicative of every outsourced operations provider out there. 
A true outsourcing partner will not only provide insights into firms' data, but consistently, frequently, and transparently communicate updates that drive business decision-making. 
Beyond visibility, enlisting the help of a partner that prioritizes clean data management and accuracy through investment operations automation is critical to achieving business objectives. Automating key investment accounting and financial reporting functions has the potential to reduce human error, create more streamlined and consistent processes, and scale growth. 
Achieve Speed and Rapid Growth
Leaders who tap into their teams' strengths and outsource to fill the gaps in expertise will outperform those firms who ask too much of their employees. This allows advisors and practice management professionals to work confidently and quickly.
It's a winning formula: speed creates efficiency. And efficiency brings growth. 
Don't try to fit a square peg in a round hole. Rather than spend valuable resources educating team members on how to use new wealth management software, outsource the management of key operations to a third party. Otherwise, you're risking your firm's long-term growth potential. 
Scale Growth by Outsourcing Fundamental Wealth Management Operations
The level of variability between firms' operational needs is wide and depends on the human capital resources available. Knowing what can be outsourced, however, is the first step to identifying powerful growth opportunities. Have you considered outsourcing:
Fund Administration
Outsourcing fund administration means freeing up management of investment account statements, financial reporting, NAV calculation, and managing books and records. Administrative tasks, like the distribution of financial statements, fund fact sheets, and other materials relevant to investors' needs, as well as the maintenance of documentation, can all be outsourced to a trusted partner.  
Data Reconciliation
Human error, as well as technological inefficiencies, can pose major challenges during data reconciliation. Outsourcing partners that provide transparency-enhancing reconciliation software empower you with the information you need—without any of the manual work. 
Trade Settlements
Outsourcing the time-consuming aspects of trade settlements—including account opening documentation, standing settlement instructions, trade execution, broker matching, custodian routing, and more—allows you to have peace of mind that new requirements are being addressed effectively.
Performance Reporting and Measurement
Measuring and reporting on portfolio performance can become a time-consuming process for investment professionals. Even in-house management of wealth management platforms that provide performance reporting capabilities means spending more time in software and less time on client-facing, business development activities. 
Automating the accounting and reporting process presents an opportunity to create efficiencies in an area of business challenging all investment and financial advisory firms today. Optimizing performance reporting and measurement tasks can ultimately become a competitive advantage. 
Compliance Oversight
Meeting regulatory requirements is an expectation of every advisory business, family office and investment firm today. Compliance oversight can relieve huge operational burdens that disrupt workflows and create inefficiencies.
Outsourcing compliance programs can provide support for regulatory filings, as well as the review and maintenance of compliance manuals, calendars, logs, responsibility checklists, codes of ethics, and business continuity plans to ensure smooth execution of compliance protocols. 
Choosing an Outsourced Services Partner
Finding the right outsourced service provider for your needs can make or break your long-term growth. As we already determined, not all outsourced partners are the same, as levels of service and customization vary greatly from provider to provider.
Consider the following when beginning the search for an outsourced provider that fits your needs:
Customized services:

Cookie-cutter services will only get you so far. Every firm faces unique challenges and has different needs, and your provider should make it easy for you to implement only the solutions necessary for your firm. An outsourced services provider that can customize service while proactively looking for ways to improve your operations is one that values your business relationship and will stay invested for the long haul.

Proven subject matter expertise:

Look for a partner that employs subject matter experts with a proven track record of success. Any potential outsourcing provider should be a leader in practice management and express full understanding of your unique pain points and challenges. 

Data visibility and transparency:

Your data is still

your

data. Though you may not be the one in the weeds every day, having access and visibility into your owned data is critical to the success of your outsourced partnership.

Scalability and flexibility:

Look for a partner that can grow alongside your business and has the flexibility to pivot their offering depending on how your business evolves. Transparent, streamlined communication plays a big role in partnership success, so seek partners that match your communication style.
Looking For a Proven Wealth Management Outsourcing Partner?
STP Investment Services is an award-winning technology-enabled services company that provides front, middle, and back-office solutions to investment managers, funds, family offices, wealth managers, and plan sponsors. It's our goal to deliver the service, software, expertise, and confidence you need to focus on your core business objectives.
Click here to learn more about how we work with wealth management firms, or get in touch with us right away.