What Does the Next Generation of Operational Service for Wealth Managers Look Like?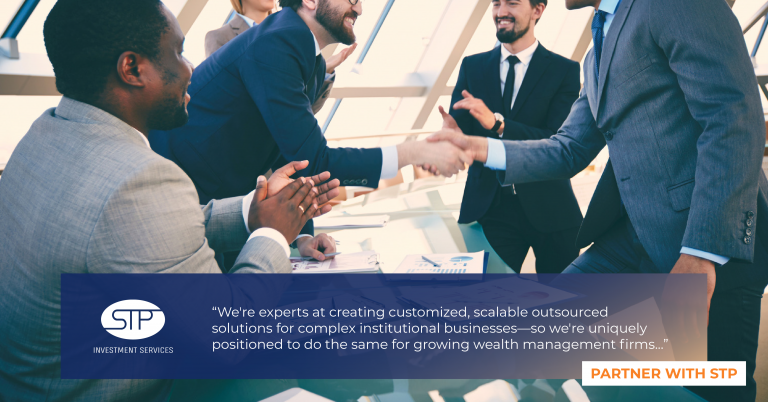 In case you missed it, STP recently announced the expansion of our technology and services further into the wealth management space. 
Traditionally, we've provided customized outsourced solutions primarily for institutional and enterprise-level firms – and it's that depth of experience that we believe makes us perfectly positioned to meet the changing needs of wealth managers.
But we also understand that wealth managers, fed a steady diet of advisor technology value propositions, may be hesitant to consider outsourcing as a solution to operational challenges. After all, outsourcing has earned itself a reputation for being rigid and inflexible, an operational approach that forces firms to fit their unique businesses into a one-size-fits-all service model. 
Outsourcing has also been called on the carpet for a lack of transparency and control. Not everyone wants to give up their entire front, middle and back-office, but some outsourced providers don't give you the choice.
So it makes sense that wealth management firms have historically leaned into the do-it-yourself tech stack approach to operational success—which comes with its own challenges. Implementing, staffing and maintaining a full suite of technology while finding the time to continue serving your clients and focusing on business development can be nearly impossible, especially as demands on wealth managers continue to increase.
At STP, we believe wholeheartedly in our ability to transform operational outcomes for wealth management firms with an outsourced approach that doesn't compromise flexibility, transparency or control. 
But we also believe that it's up to each firm to evaluate potential service providers based on their own goals and challenges, without the preconceived biases about tech stacks or outsourcing that could ultimately do your business a disservice.
We encourage you to look at the value an operational partner brings to your firm, rather than the way their service is defined. 
Can they create efficiencies across your entire organization?

Can you retain control over the tasks that matter most to you?

Will using their solutions empower you to focus on delivering a better client experience?

Will they be able to grow with you?

Can you look to them for thought leadership and best practices support?
It's up to you and your firm to determine what makes up an operational services provider that will create the value you need to meet your biggest goals.
Our whitepaper, Growing Your Wealth Management Firm Without Growing Your Tech Budget, offers a seven-step framework for evaluating whether or not a solution is right for you. Download it now to learn more about navigating the continuum of technology and services options available to wealth management firms today.