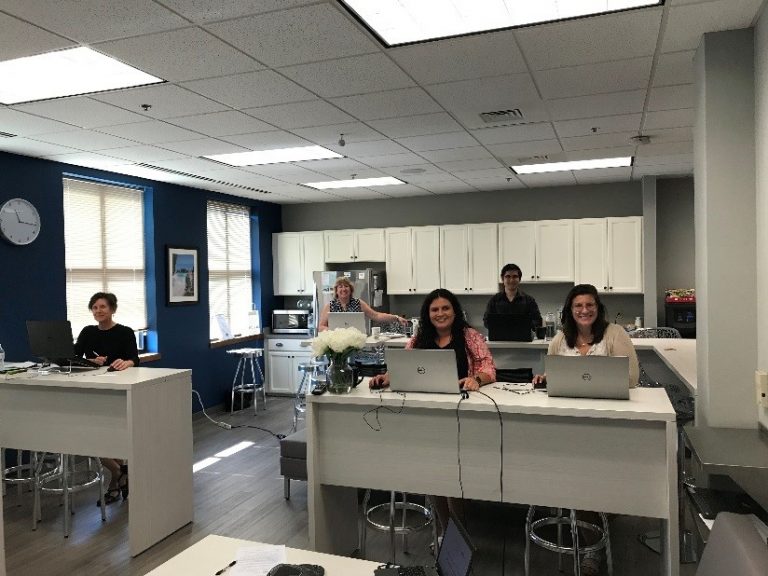 STP Employees Enjoy Livestream of 2019 Pennsylvania Women's Conference
STP employees were pleased that Livestream tickets were available for the first time as the 2019 Pennsylvania Women's Conference sold out in a couple of hours. This created the unique opportunity to enjoy many benefits of the conference and still manage work requirements.
Employees viewed all keynote speakers and certain breakout sessions straight from their laptops.
The day was kicked off with James Clear, author of New York Times bestseller Atomic Habits. James spoke about excellence coming from incremental improvements over time and systems being the difference maker. Instead of aspiring to read 40 books a year, read for two minutes today and read two minutes tomorrow. Over time, you will become a reader. "Every action you take is a vote for the person you want to become" emphasized Clear.
theSkimm founders, Danielle Weisberg and Carly Zakin, shared with candor and humor about leadership, overcoming obstacles, and the importance of mentorship in providing vital introductions, feedback, alliances and advocacy.
Personal branding expert Lida Citroёn spoke about differentiating yourself to create a unique personal value proposition and the necessity of your values, actions, and impact being in alignment to communicate credibility.
Eat, Pray, Love author Elizabeth Gilbert taught that the three most important words a woman can speak are "I don't care," because to pretend to care about everyone and everything takes vital energy and time away from what one does care about.
Laura Okmin, Emmy award-winning sports reporter and founder of GALvanize, shared a personal story about overcoming a fear and emphasized that to truly connect with someone and build relationships, you must talk far more about your "who" than your "do."
The event attended by 12,000 people at the Pennsylvania Convention Center in Center City Philadelphia, in addition to the Livestream participants, is a large-scale unique personal and professional development event for women. STP employees look forward to learning more from inspirational speakers in 2020.