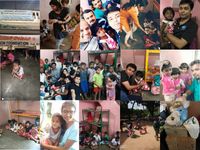 STP India Events Committee Launches Social Responsibility Program
The STP Investment Services India Events Committee recently launched a Social Responsibility Program. The program celebrates our 10th year and ensures that STP continues to give back and be involved in our local communities. The volunteers donated their time and visited the Zion Foundation based in Whitefield, Bengaluru, which provides a home for 50 orphans and abandoned children. The Zion Foundation also operates a school with the strength of 150 rural and orphaned children, in which 120 children are benefited by free education. The organization, based in Bengaluru and Bangarapet, in the state of Karnataka, has a mission to make the world around these children a better and happier place.
STP donated Rs. 10000 for maintenance and school development along with items such as stationary, notebooks, geometry boxes, water bottles, toys, glasses, clothes, slippers, fruits, and other food items. The employees interacted with the children and displayed their care and sense of responsibility throughout the day of service. As said by St. Teresa, "It's not how much we give, but how much love we put into giving.