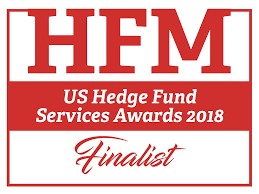 STP Fund Services Short-Listed for Two HFM Honors
The HFM US Hedge Fund Services Awards for 2018 honors providers of services and solutions that have demonstrated exceptional innovation, customer services and performance over the past 12 months. STP Investment Services is proud to have made the shortlist for the following categories:
– Best Administrator – small managers
– Best Outsourced Operations
STP has served an independent fund administrator and fund services provider since inception. STP is able to act as the official books and records as the fund administrator of record, or alternatively as a shadow to the fund administrator. STP Investment Services focus on fund and investor accounting, administrative, and audit and tax support services in its fund services and administration business line has positioned the firm to be a leading solution for fund managers. In addition to core fund administration and shadow fund administration services, STP Investment Services also offers services including regulatory reporting, data management, data warehousing, post-trade compliance, fund fact sheets, investor portals, performance and reconciliation dashboards, dynamic report building, and financial statement preparation.
"We are proud to receive honors and recognition from HFM as part of the US Hedge Fund Services Awards. Our partnership approach, significant investment in technology, award winning culture, focus on data management and control, and servicing multiple investment channels on our proprietary platform have been key factors with our continued track record of success," shared Patrick Murray, Founder and CEO of STP Investment Services.